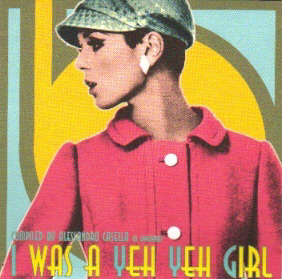 El otro día fui a tomar un café con unos amigos (australiano uno; escocés el otro). Asombrada descubrí que no sabían qué era ser yé-yé y nunca habían oído hablar de Françoise Hardy, ni de France Gall, y que a Serge Gainsbourgh sólo lo conocían por el "Je t'aime, moi non plus" ("aah sí, la canción esa del orgasmo"). Me pidieron que les ilustrara y ayer les escribí un emilio con un pequeño resumen de la época yé-yé. Ni está completo ni lo pretende (pretendía añadir más sobre los chicos yé-yé, pero me cansé de escribir); a mí lo que me fascina es que una cabeza como la mía sea capaz de acumular tanta información inútil y sin embargo me costara horrores sacarme la carrera en cuatro años :S
Being yeye means being young, innocent and cute


The yeye mouvement had its origins in the radio program "Salut les copains", created by Lucien Morisse and hosted by Daniel Philippacci, which was first aired in December 1959. This program became an immediate success and one of its sections ("le chouchou de la semaine" / "this week's sweetheart") turned to be the starting point for most yeye singers. Any song that was presented as a chouchou went straight to the first places in the charts. The "Salut les copains" fenomenon continued with the magazine of the same name which was first published in 1962 in France, with German, Spanish and Italian editions following shortly aftewards.

Yeye music was new in a number of ways: first, it was the only musical movement so far to be spear-headed by females; second, it was a mostly European thing (although it grew very popular in Japan and yeye music is in the origins of Shibuya-kei; convince youselves by listening to the Japanese version of the 1964 Eurovision-winning song " Poupée de cire, poupée de son" composed by Serge Gainsbourgh and performed by France Gall). Yeye girls were young (France herself was only 14 when she released her first album, 16 when she won the Eurovision song contest for Luxembourg) and innocent (most of their songs talked of finding the first love, such as Francoise Hardy's "Tous les garcons et les filles" ("

All the guys and girls my age know how it feels to be happy, but I am lonely, when will I know how it feels to have someone?

").

They were also sexy, in a naïf way. Gainsbourgh called France Gall the French Lolita, and, wanting to check to which extent her innocence was real, composed for her the song " Les sucettes" ("Lollipops"): "

Annie loves lollipops, aniseed lollipops, when the sweet liquid runs down Annie's throat, she is in paradise

". Do take a look at the video. It is amazing to think that not even that video (with all those giant penis-like sucettes dancing around) rang a bell for poor France! She was finally told of the double meaning of the song and that is when her yeye period finished... Her innocence was gone and it took her some 5 years to sing again, now with a completely different style.

Among the yeye girls, Sylvie Vartan played the glamourous one. She married rock star Johnny Halliday in 1965 and toured in America and Asia. But she stayed always a yeye, and as late as in 1968 she recorded the song "Jolie poupée" about a girl that regrets having abandoned her doll after growing up.

But as I said in the first place, the yeye movement, although originated in France, was an European one. Italy's Mina was a different yeye: she composed her own songs with influences from jazz and rock'n'roll, and in songs such as " Fumo blu (taratata)" she dared to sing

"The way you smoke, you are irresistible to me, you look like a real man".

As oposed to her, Rita Pavone was the average, childish yeye girl. In her 1964 hit "Cuore" she complains on how much love makes her suffer.

In Spain, yeye music was at first considered to be against Catholicism (during the 1967 Beatles' concert in Madrid more than 500 girls from the public were arrested under the charge of wearing too short skirts). However this din't stop the yeye culture from spreading, although a bit later than in the rest of Europe, and in 1968 yeye girl Massiel won the Eurovision song contest with "La, la, la" , wearing the most wonderfully yeye dress I have ever seen. However she failed to remain successful and it was the sweet, naïf Karina the one to be crowned as the Spanish yeye queen with her hits "En un mundo nuevo y feliz" and " El baúl de los recuerdos".
Yeye boys


As I have mentioned, the yeye movement was led by female singers, but that does not mean that there were not any yeye guys. We should, however, note the difference between the yeye masterminds (such as Serge Gainsbourgh, who wrote most of the songs performed by the yeye bunch, but did not quite have a yeye attitude himself) and the actual yeye singers. These were harmless, romantic boys singing mostly ballads and love songs. Michel Polnareff, for example, played the tormented, hopeless lover in songs such as " Love please love me", while Jacques Dutronc claimed having seduced Father Christmas' daughter in " La fille du pere Noel". However both of them gained more success after the end of the yeye years, so maybe we could not properly call them yeye singers.